Online Service
Contact Person:

Tracy Li

Contact Person:

Candy Ou
Contact Now
Features of ice cream machine
Today, the ice cream machine manufacturer Guangli Machinery will tell you the product features of the ice cream machine.
1. The main engine of the ice cream machine adopts a fully enclosed compressor, and the mixing cylinder adopts the interlayer refrigerant "S" type flow direction direct cooling design, which has the advantages of low energy consumption and large cooling capacity.
2. The start-up refrigeration time is shorter, and the first batch of materials is discharged quickly.
3. The mixing tank has a unique arc angle cleaning.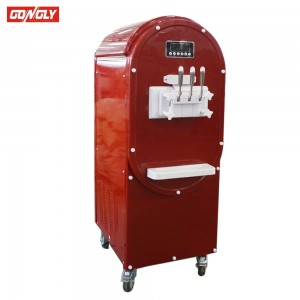 4. More use of high-quality stainless steel materials. The appearance is simple and elegant.
5. The ice cream machine uses electronic numerical control module, which is automatically controlled and has the function of discharging and counting. Ice cream hardness can be adjusted at any time.
Divided by the type of ice cream product required, the ice cream machine is mainly divided into soft ice cream machine and hard ice cream machine.
Guangli Machinery (Xinhui) Co., Ltd. was established in 1999 in Xinhui District, Guangdong Province. We specialize in the production of new generation ice cream machines, ice machines (ice mixers), freezers and ice cream powders. Our company is one of the most professional enterprises in China integrating R&D, manufacturing and sales of such products. There are many product styles, stable quality and excellent performance, which fully meet the national quality and hygiene standards.
(Part of the material on this website comes from the Internet. If the information displayed on this website infringes your copyright or other legitimate rights and interests, please notify us in time, and this website will be deleted in time.)